Henan daily news acceleration | "chain" of the property
---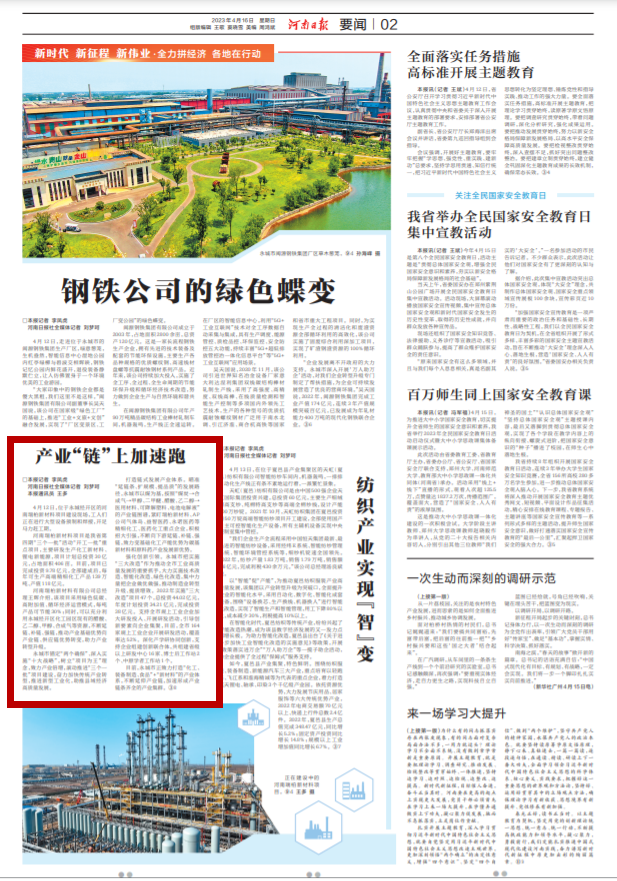 Henan Daily client reporter Li Fenghu Liu Mengke correspondent Wang Duo
Workers are prefabricating and welding large equipment at the construction site of Henan Ruibo New Materials Project in Yongcheng Economic zone on April 12.
Henan Ruibo New Materials Project is the fourth period of our province "three batch" activity "start a batch" key project, mainly R & D and production of new chemical materials, lithium new energy, the project plans a total investment of 3 billion yuan, covers an area of 406 mu. At present, 978 million yuan has been invested in the project. After completion, it can produce 1.39 million tons of high-end fine chemical products and 11.8 billion yuan of output value every year.
Wang Hui, general manager of Henan Ruibo New Materials Co., LTD., introduced that the project adopts the green low-carbon, high added value, circular economy operation model, which can save 30% energy per ton of products; At the same time, we can make full use of the existing acetic acid, ethylene glycol, methanol, syngas and other resources in the Chemical Industry Park of Yongcheng Economic Development Zone, continuously extend, reinforce and strengthen the chain, promote the transformation of industrial base advantages into industrial chain and supply chain advantages, and help industrial transformation and upgrading.
Yongcheng anchoring "two ensure", in-depth implementation of the "ten strategies", establish the "project is king" concept, is committed to industry doubling, rolling forward the construction of "three batch" project, strive to speed up the transformation of traditional industries, promote new industrialization, boost the county economy of high quality development.
We will build an industrial system of chain development. Aiming at the development path of "extending the chain, expanding the scale and improving the quality", Yongcheng is based on coal, in accordance with the industrial chain map of "coal → syngas → methanol, dimethyl ether, acetic acid, glycol → medical materials, degradable plastics, battery electrolyte". It focuses on the key enterprises of fine chemical industry and medical chemical industry, such as Rebo New materials, AP company gas island, Yizheng Medicine, Yongnuo Medicine, etc. Actively recruit large and strong, and constantly extend, supplement and strengthen the chain to the downstream, and strive to change the capacity advantage of basic chemical industry into a new advantage of carbon-based new materials and API industry.
We will strengthen innovation guidance. Yongcheng to implement the "three transformation" as an important starting point to promote the city's industrial high quality development, vigorously implement the technical transformation, intelligent transformation, green transformation, concentrated efforts to make enterprises better and stronger, promote the transformation and upgrading of the manufacturing industry, quality and efficiency. In 2022, 47 "three major renovation projects" were implemented, with a total investment of 4.402 billion yuan, of which 3.421 billion yuan was planned for the year, and 3.8 billion yuan was completed. To support the city's above-regulation industrial enterprises to increase R&D investment and carry out R&D activities, and guide the agglomeration of innovation factors to enterprises. At present, 164 above-regulation industrial enterprises in the city have carried out R&D activities, with a coverage rate of 52%. China has deepened industry-university-research collaborative innovation, supported enterprises in forming innovation consortiums, and set up 16 R&D centers at or above the provincial level, 2 post-doctoral workstations, and 1 Central Plains scholar workstation.
At present, Yongcheng is committed to creating "chemical, equipment manufacturing, food" + "new materials" industrial system, constantly extend the industrial chain, accelerate the formation of industrial clusters with complete industrial chain.
---